This piece by Merve Kartal (from HMKW University-MA Digital Journalism) was written as part of the Journalistic Writing module with lecturer Martina Kohl.
*
Fierce forest fires, devastating floods, global epidemics, an increased number of hailstorms, and tornadoes, are all visible consequences of climate change. Increasing awareness of these disasters around the world affects human health psychologically, especially among children and young adults. This novel psychological problem is known as "eco-anxiety."
Climate change refers to the disruption of the normal cycle of seasonal warming and cooling. It is not a recent phenomenon as its early effects began decades ago. For example, according to Climate Change History, Swedish chemist Svante Arrhenius introduced one of the earlier theories of climate change in 1895 and he suggested that global temperatures would increase by 5 degrees Celsius. Decades later, modern climate modeling has confirmed Arrhenius' numbers.
In addition to its widely accepted consequences such as air pollution, drought, and epidemics, climate change is also believed to affect the mental health of hundreds of millions of people. Scientists at the Institute of Global Health Innovation and the Grantham Institute report that the more concerned people are about the future of the world, the more likely they are to suffer from mental health issues.
According to the American Psychological Association (APA), when these issues are severe, they may turn into a chronic fear of environmental doom, which is labeled as "eco-anxiety". For instance, the following video clip, "How does climate change affect our mental health?", highlights the consequences of climate change on mental health. It is suggested that when people feel they have no control over the future of our planet and society, they become more likely to experience eco-anxiety.
A video clip "How does climate change affect our mental health?" by the Institute of Global Health Innovation and the Grantham Institute.
Young people extremely worried about the climate crisis
Not only adults but also young people experience such climate-related concerns. According to a survey conducted by the APA in 2020, more than two-thirds of Americans are somewhat or extremely anxious about the impact of climate change on the planet. The survey reveals that 67% of Gen Zers (18–23 years) and 63% of millennials (24–39 years) are somewhat or very concerned about the impact of climate change on their mental health compared to 42% of baby boomers (56–74 years) and 58% of Gen Xers (40–55 years).
Another survey conducted by the University of Bath on the effects of climate change on children and young adults shows that political inaction contributes to eco-anxiety.
The results of this survey across 10 counties with 10 thousand of young people, for the first time, also show that climate distress and anxiety are significantly related to perceived government inaction and associated feelings of betrayal. 64% of children and young people surveyed said their governments are not doing enough to avoid a climate catastrophe. Caroline Hickman, one of the researchers at the University of Bath working on raising the issue of eco-anxiety highlights that the disconnect between what politicians say and what they do troubles the youth. "Broken promises and inaction coupled with the enormity of the climate crisis are all beginning to take their toll on children's mental health," she said.
Although the empty words and no-action of politicians trigger eco-anxiety in young people, some young climate and environmental activists turn it into motivation and continue their actions courageously. For example, they describe the continuity of their actions as follows:
"Eco-anxiety is actually a form of motivation for me because I realize that I am working more on climate to get away from my worries," said Atlas Sarrafoğlu, a 14-year-old climate activist from Turkey.
A trending tweet posted by Greta Thunberg, a Swedish environmental activist, "#COP26 is over. Here's a brief summary: Blah, blah, blah. … And we will never give up, ever".
The #COP26 is over. Here's a brief summary: Blah, blah, blah.

But the real work continues outside these halls. And we will never give up, ever. https://t.co/EOne9OogiR

— Greta Thunberg (@GretaThunberg) November 13, 2021
Actions to mitigate climate change can positively influence mental health
According to the data and discussions of scientists, it seems that we won't "solve" climate change, at least not any time soon. But that doesn't mean there's nothing we can do. Climate change mitigation options can be directly beneficial to mental health. Such measures include physical exercise like walking and cycling that make us more resilient while at the same time helping us to contribute to a cleaner environment.
For example, Dr. Gesche Huebner, a Senior Research Associate at the UCL Energy Institute, talks about the co-benefits of climate change mitigation actions that are helpful also for mental health in a podcast episode. Such small actions like reducing fossil fuel-powered traffic, removing electric vehicles, and promoting active transfers such as walking and cycling that will reduce greenhouse gas emissions, she claims, not only make us feel better physically and mentally but also mitigate climate change.
Dr.
Huebner
explains how our changed behavior impacts our environment and well-being in her article 
Climate change and mental health
: electric vehicles, and active transport trade less noise and produce less heat. Infrastructure for active transport such as cycling or walking reduces the surface area of roads and parking spaces. We create more green and blue spaces for trees and plants, and water, all of which support our mental health. These "small" solutions applied to our communities can be bigger for one's mental health than they seem.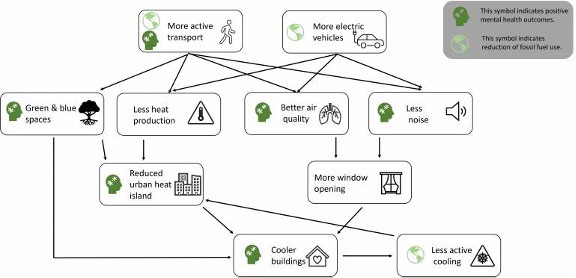 Eco-anxiety is on the rise, but anyone who is aware of the consequences of climate change could act now. We can start with walking or cycling could as one of the basic solutions to reduce the visible consequences of climate change as well as eco-anxiety. The next step would be to work with our communities to create green urban spaces freed of fossil-fueled traffic from which we all can benefit mentally and physically.