Workshop as Kavala's Arrest Enters 100th Day: Artists and friends of civil society activist and Anadolu Kültür Chairperson Osman Kavala staged a three day shift-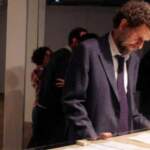 workshop in the association's DEPO cultural centre, between the 9th and 12th of February, marking 100 days since he was arrested and later remanded on charges of attempting to abolish constitutional order" and "attempting to overthrow the Government" with a confidentiality order on the prosecution's case.  Kavala too issued a statement marking the date, where he emphasised the importance of improvement in Turkey's relations with European institutions and civil society, and said that "these relations will be strengthened again, once the negative climate engendered due to the state of emergency changes." The statement can be found on the site campaigning for his release.
HDP constituents, Green-Left spokespersons under arrest: Turkey arrested
leading figures of constituent parties prior to Sunday's Peoples' Democratic Party (HDP) party congress. The names include co-spokespersons of the Green-Left Party, Eylem Tuncaelli and Naci Sönmez. The Ankara Chief Public Prosecutor's Office ordered the arrests without any official charges. As of this writing, they have not been released. The European Green Party and the Greens/EFA Group in the European Parliament too called for their immediate release.
Other people arrested on Friday morning included Peoples' Democratic Congress (HDK) Co-spokesperson Prof. Dr. Onur Hamzaoğlu, Socialist Party of the Oppressed (ESP) Acting Chairperson Fadime Çelebi, Socialist Solidarity Platform (SODAP) Spokesperson Kezban Konukçu, Socialist Party of Refoundation (SYKP) Co-chairperson Ahmet Kaya, and Federation of Socialist Youth Associations (SGDF) member Ozancan Sarı. There was also an arrest warrant issued for HDP Co-chairperson Serpil Kemalbay.
HDP Elects New Chairs: The HDP was able to hold its 3rd Party Congress under heavy
security measures. Pervin Buldan and Sezai Temelli were elected as the new co-chairpersons of the party. In her candidacy speech, Buldan said "geography is destiny" and "the HDP exists as what is needed by all the persecuted peoples, all the faiths and cultures living on these lands." Temelli said "There are two choices in front of the peoples of Turkey. One of the choices is a picture of hope, the other is that of fascism. The HDP will rip-up the picture of fascism, do not doubt this!"
Children's Play Banned for being Anti-War: The Manisa Police Directorate banned the children's play Little Environmentalist Rascals (Çevreci Afacanlar) from
being performed. The reason given was that the play included anti-war and non-violent discourse, "not related to a clean environment." Posters of the play were also banned from being put up in schools, "as it is concluded that it is not right for a discourse, political in nature, such as anti-war stance being presented to our children in these sensitive times our country is going through."
Public Hearing for Sinop NPP amid Arrests, Prevention: The public hearing for the proposed Sinop Nuclear Power Plant's environmental impact assessment report was held on Tuesday, amid heavy obstruction by police against participation by environmentalists and those opposed to it. Sinop mayor Baki Ergül, Osman Belovacıklı, mayor of Gerze, the district where the plant is proposed to be built, as well as  CHP MPs Barış Karadeniz, Ali Şeker and Orhan Sarıbal were not let into the hall, with the excuse that it was full. One protestor was arrested at a demonstration in front of the governor's office, where tear gas was used to break up citizens' protest, and two in the hall.
Pınar Demircan followed the hearing and protests for the Green Gazette, and she has translated her full article into English: Read here.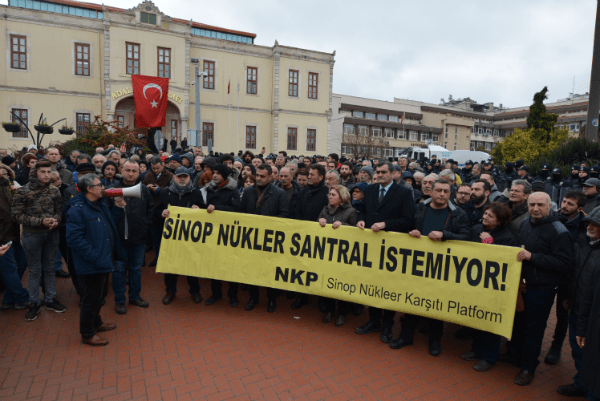 Industrial Fishing threatens Thriving Corals: Large fishing boats and nets are threatening corals transplanted and thriving extremely well at a site on the Eastern coast of the Marmara Sea. The corals were transplanted from near Istanbul's Princes Islands, where coral colonies are under threat due to sea pollution and construction debris.
Brazilian Animal Right Activists Plea for Turkey-bound Cattle: A video prepared by Brazilian animal rights activists started circulating in Turkish social media sphere last week, documenting the torturous conditions of the animals being transported to Turkey for slaughter. Their protests were prevented prior to the departure, and they call upon activists in Turkey for solidarity against this and three more shipments to come. Turkey has been increasing its animal imports in the past few years.
Syriac Christians to Get Church Property Back: In an unexpected turn of events, the latest omnibus law including a variety of issues granted Syriac Christian foundation property back to the community. Legislation was passed in 2014 which granted the property to the Directorate of Religious Affairs, but upon public reaction it was never enforced and the property was diverted to the Treasury instead. A lawyer for one Syriac Christian foundation, interviewed by media, welcomed this as very good news.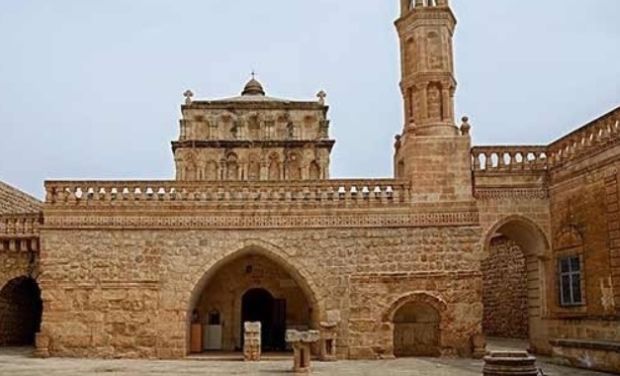 Halt to Syrian settlement to Istanbul: The Ministry of the Interior General Directorate of Migration Management issued a temporary halt on Syrian asylees transferring their registered address to Istanbul. The city hosts over 540 thousand Syrian asylum seekers in registered status, but Volkan Görendağ, Refugee Rights Coordinator for Amnesty International suggests that the population in Istanbul is actually more. He says that this latest decision is only going to increase the number of asylees who live in the city unregistered, and thus without access to public services, especially hurting the more vulnerable the most.
Meanwhile, the Red Umbrella Sexual Health and Human Rights Association issued a report regarding the health conditions of Syrians in Turkey who are forced into sex work. The report, first of its kind and with some concerning findings, was put together with the aid of the UN Population Fund.
Desalination No Solution for Istanbul's Water Shortage: Akgün İlhan took up the proposals for a desalination plant on the Black Sea coast of Istanbul, this week. She shed light on the at least tenfold increase in energy consumption needed per unit of water, the concentrated pollutants, salt and chemicals in the discharged water and its impact on the marine environment. The fact that Istanbul is destroying its fresh water resources in its northern forests with mega-projects and at the same time thinking about this is highly inconsistent, she argued, making the case for better water management and ecological preservation before all.
Yeşil Gazete – Green Gazette
Translated and summarised by Alidost Numan