Interview: Atlas Sarrafoğlu
Elsie Luna is a British-Colombian-USer 11-year old. During the past 16 months, she has been a climate change activist, living in England, Germany, and Colombia. She is currently moving towards becoming an anti-capitalist and anti-fascist activist. She lives in Sunderland, England. We had met in Lausanne at the activists' summer meeting with Elsie. Her mother Heather is my mom's friend and she is also an Extinction Rebellion Trainer.
Climate and ecological breakdown has already started. People are already dying.
 Atlas:  Please tell us how you started to become aware of the climate crisis. And what triggered you to take action and become an extinction rebellion kid? 
Elsie: I got aware of the climate crisis because of Greta, mainly. I was inspired by what she was doing. I (think) I was the first striker in the UK, but I am home educated, so it was more a solidarity strike. My first strike was supported by Extinction Rebellion (XR). I learnt more and more about the crisis and went to the offices in London of the CEOs of fossil fuel companies to ask them to please, please have a change of heart, declare a climate emergency, and keep their fossil fuels in the ground.
I was doing lots with XR before the April 2019 rebellion in London. I worked in the office, doing "Regen", which means helping the other activists feel relaxed and happy, like reminding them to walk, exercise, do yoga. I also worked with XR Youth then. But that was more for teenagers. I was also aware of XR Families, but that felt too young for me. So I started XR Kids, for the in-between, 8-12 year olds. It is independent from XR.
Since you are travelling a lot, can you tell us about your strikes at different locations. What is the most memorable thing in your activism?
Elsie. I was on strike in many locations after striking for the first time in London. I continued in my town where I lived, Scunthorpe, England. Then I moved to Germany and did many strikes there (in Essen and Berlin), but only once when I was in school was it an actual strike. I went to a big anti-coal march in Cologne. Then we moved back to England and I went on strike in Bristol.
I do not consider myself to be a part of Fridays for Future or the climate strikes, even though I have attended around 10 in total. My main activism, so far, has been with XR and then XR Kids. As co-coordinator of XR Kids, I helped organise activities for XR's October 2019 rebellion. My most memorable thing in my activism was meeting Greta at the Fridays for Future conference in Switzerland in the summer of 2019.
I want the future to be completely free of emissions, at least some day — not just net zero. I dream of a world free of racism, adultism, ageism, sexism, disablism, and classism.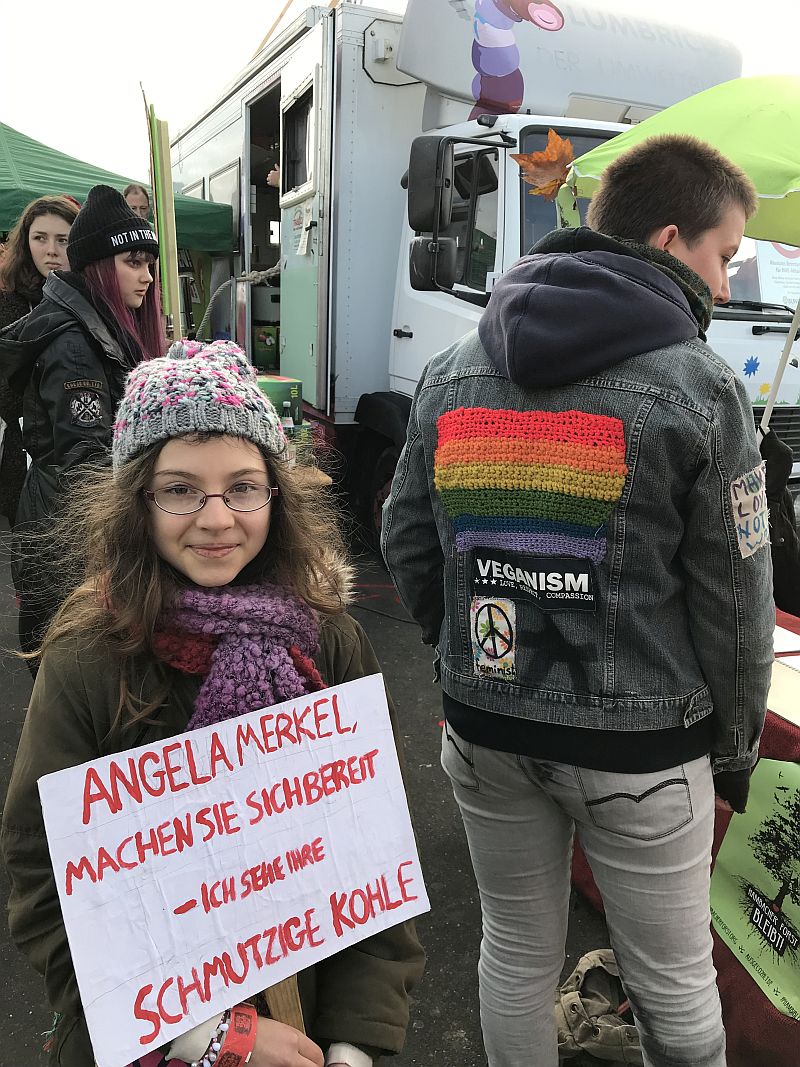 I love your sign saying "Thank U for giving up your freeness for my laterness". Please tell us what you mean by that and what do you dream of the future to be?
Elsie. That sign was for the Extinction Rebellion activists being arrested in April 2019. I was thanking people for being willing to make the sacrifice of being arrested in order to try to help me have a future.
I want the future to be completely free of emissions, at least some day — not just net zero. I dream of a world free of racism, adultism, ageism, sexism, disablism, and classism.
I know that you are being homeschooled so what do you think the benefits of this is related to your activism?
Elsie. It gives me more time to study activism-related things. In a way, it's like striking every day!
If you were in a room full of politicians, what would you ask them?
Elsie. It seems like the politicians are all guilty, now, no matter what political party they're from. I'd ask them all to step down. People need to start self-organising, building communities for whatever happens, making sure that everyone can have what they need, doing what was the job of the government, and to stop the companies through direct action.
Do you have anything to say to kids in Turkey who want to start climate actions. Any advice or tips you would like to share?
Don't let the capitalists take advantage of you! Don't let the fascists take advantage of you! Because they won't actually do a good job. They'll only pretend they are doing a good job and only say they are doing a good job.